See you at Mir Stekla 2023!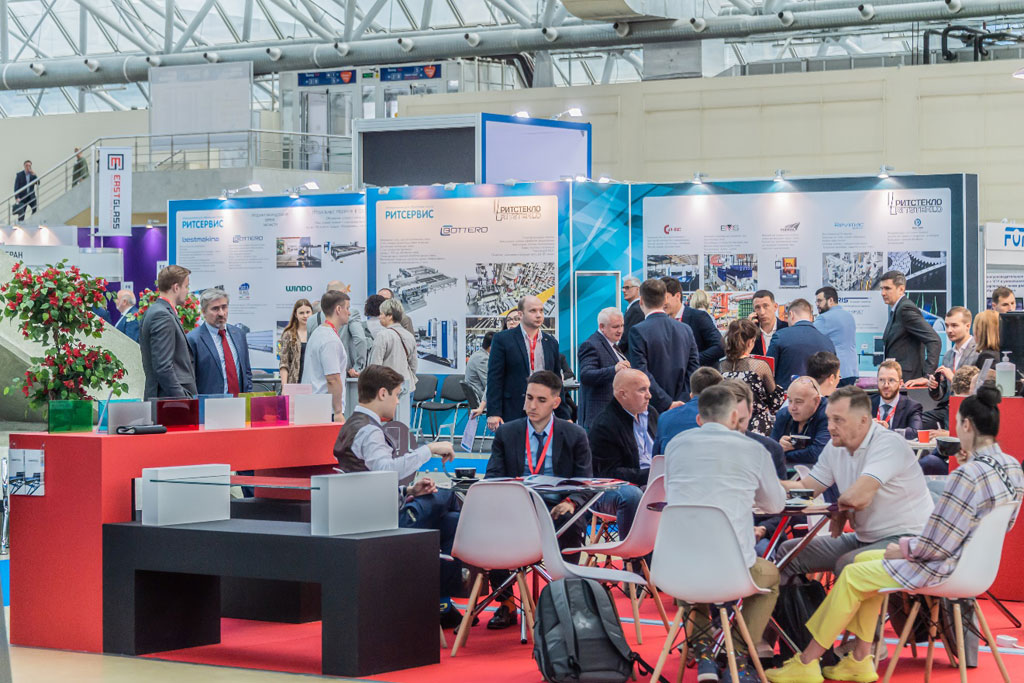 Mir Stekla 2023, the International Exhibition for Glass Products, Manufacturing, Processing and Finishing Technology, will be held for the 24th time. The exhibition will be located in Pavilion 3 of EXPOCENTRE Fairgrounds. This industry's main project is to revive the best traditions of glass production and promote new technologies and advanced equipment to the Russian market.
Mir Stekla, held simultaneously with the RosBuild exhibition as part of Russian Construction Week, will give glass companies an opportunity to learn about the state of the industry market, find the best suppliers in all areas of interest, and expand their circle of clients and partners at a single exhibition venue.
EXPOCENTRE AO is organising the exhibition under the auspices of the Russian Chamber of Commerce and Industry, with the support of the Russian Ministry of Industry and Trade, the Russian Union of Builders, the Russian Glass Union, the Russian Union of Designers.
Leading manufacturers and suppliers of glass products will introduce professionals to advanced developments and effective solutions in the field of import substitution in the glass industry.
100 companies from the Czech Republic, France, Hong Kong (China), Hungary, India, Italy, China, Russia, Turkiye, and the USA will take part in the exhibition.
Foreign exhibitors include: Best Makina Sanayi ve Ticaret A.S., Àll Glass, Teknika Makina Kalip San. Tic. Ltd. Stl., Yuntong Glass Mech-Electro Technology Co. Ltd, Refmon Zrt., Nirmal Glasstech Industries, Shanghai Pony Technology Co. Ltd., Shamvik Glasstech Pvt. Ltd. and others.
Russian participants will be represented by companies: Yta, Diacraft, Institute of Glass, the Grebenschikov Institute of Silicate Chemistry of RAS, Ritservice, Stromizmeritel, Sklostroj Turnov, Sukholozhsky Refractory Plant, Stanki Mira, Intmarket, Borovichsky Refractory Plant and others.
The Mir Stekla 2023 exhibition stands covering 5,860 sq. m will showcase all aspects of the modern glass industry, the nuances of glass production and processing: equipment and technology for the production of flat glass, glass containers, tools and materials, innovations, scientific and design developments, medical, construction, furniture, interior, automotive glass, and artistic and decorative glass products.
Industry professionals will learn about software for glass manufacturers and processors, architects, designers and contractors. Research institutes and training centres will showcase their innovative developments.
This year, we are expecting an increase in visitors interested in architectural and building glass: architects and developers.
The scale of the event is given by the wide participation of both industry leaders and new regional companies, as well as the extensive range of topical issues that will be covered by the events of the exhibition's diverse conference programme.
The most important events of the Russian Construction Week conference programme:
Plenary Meeting on the Development of Housing Construction in the Russian Federation
3rd Russian Meeting on the Development of Building Materials Production
5th Forum on Translucent Structures. Windows, Facades, Doors
Energy Efficiency in Construction
Panel on Scientific Developments in the Glass Industry
Practical Conference on Glass Quality
2nd Summit of Builders: Trends in Residential Development
How to achieve growth of consumer loyalty index of a new building buyer?
Heads of industry departments, ministries, and glass industry representatives will discuss how quickly glass manufacturers are adapting to the new reality and what new challenges will come to the fore this year.
Mir Stekla is restricted to 12+.
The exhibition is open from 10 a.m. to 6 p.m. and from 10 a.m. to 4 p.m. on 3 March.
---