Ritsteklo will showcase the world's leading suppliers of equipment for glass packaging production
06 / 04 / 2022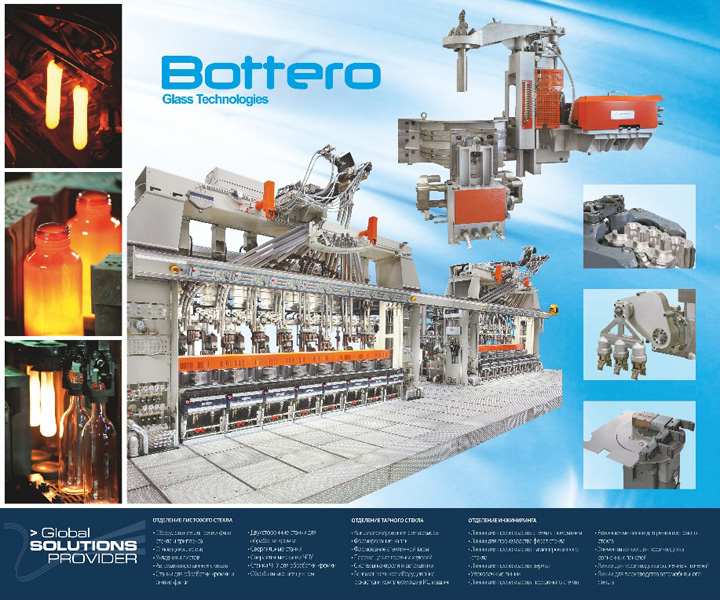 Ritsteklo is a regular exhibitor at Mir Stekla. The company represents a number of leading Western European and American companies, which are suppliers of equipment for production and quality control of glass containers (bottles, jars, perfume and cosmetic bottles, etc.), as well as equipment for decorating glass containers using screen printing and hot foil embossing methods in Russia and the CIS countries. Commercial Director Igor Tarasov spoke to us in detail about the products and the forthcoming work at the show.
– Igor, could you tell us what your company specialises in?
– Ritsteklo has extensive experience in complete glassworks projects with the supply of production lines from the glass furnace to the finished product warehouse.
We also work with many operating glassworks in Russia and the CIS to supply individual machines, machinery and spare parts as well as services.
The need for advanced equipment for the glass industry in Russia remains high. We hope that our work will continue to contribute to the development of a modern, competitive glass industry in Russia and the CIS countries.
– There will be several companies on your stand at once. Which ones? What are their special features, their advantages?
– First and foremost it is Bottero Glass Technologies. The Bottero group, based in Cuneo in the north-west of Italy, is one of the world's leading suppliers of equipment for the production of glass containers and sheet glass processing.
One of the company's main strengths is the combination of glass container and flat glass, which in itself is unique in the global glass market and increases the company's financial strength even in difficult economic times. In addition, Bottero has made great strides in the development and production of glass forming machines and related equipment over its 65 year history. It has the second highest number of glass-forming machines and glass packaging machinery sold worldwide, and its know-how and patents in this field allow it to look to the future with confidence.
Another Italian company, Revimac, based in Vicenza in the north-east of Italy, is part of the Bottero group and manufactures glass feeder channels, angle changers, hot-strengthening and cold-spraying units, cross conveyors, annealing furnace loaders (stackers), and auxiliary equipment for glass container production (glass mixers, emulsion blending units).
The company also carries out a professional overhaul of glass-forming machines and auxiliary equipment.
CAR-MET, based in the Veneto region in the north-east of Italy, will also be represented. Since 1965, the company has been making tunnel furnaces for annealing glass containers for manufacturing and decorating, as well as furnaces for tempering glassware and insulators, and furnaces for heating glass moulds.
One of the company's strengths is the exceptional reliability and durability of its furnaces, which is ensured by constant quality control of the incoming metal, the processing of parts and the assembly of the furnaces.
Another partner, the EMS group based in Parma in central Italy, brings together several renowned manufacturers of palletisers, sorting and packaging equipment for glass containers, including Emmeti, Sipac, Mectra, and Zecchetti. Each has extensive experience in the design and manufacture of a particular type of packaging equipment.
The group is able to offer its customers advanced, versatile and efficient packaging solutions for the cold finishing of glass containers of any complexity.
We will also be presenting Iris Inspection Machines from France. It is located near Lyon in south-eastern France. The company has been developing and manufacturing equipment such as automatic glass container inspection machines since 2002.
The company's advantages are innovative technical solutions, which allow to reduce dependence of inspection quality on human factor, reliability, high productivity and efficiency of machines (IRIS has a rare modification of machines for inspection of perfumery and cosmetic packaging, which is the most complex object in the glass industry), active implementation of AI in automatic glass packaging inspection technology, installation for automatic control of glass packaging on conveyors, and laboratory installations for measuring thickness of bottle walls and necks.
Visitors to our stand will also be able to see the products of Fermac, which develops and manufactures screen printing machines for glass containers and glassware. The company is located in Parma in central Italy, next to the Vetro-2 glass decoration plant, which is the industrial base for testing Fermac's new developments and a practical training ground for customer personnel.
Fermac's product range is the widest in the world and includes semi-automatic and automatic machines for screen printing on glass containers, with between three and twenty printing stations, as well as machines for digital inkless printing on glass containers, such as bottles, tumblers, pitchers, cups, vials, etc.
Today, Fermac is the world leader in digital inkless printing, which is the most innovative technology on the world market.
The products of Ramsey Products Corp. will undoubtedly be of great interest to professionals. Located in North Carolina in the USA, the company is the world's oldest active manufacturer of hot rod toothed steel chains, drive chains for power transmission, drive sprockets, couplings and gears.
The advantages of the company are its widest range of steel chains for industrial conveyors and power transmissions as well as steel chains for hot end glassware production, its constant attention to product quality, which guarantees the high quality standard of silent chains for the glassware industry, and double pin design and wear protection of pin heads, which ensures the steel chains can operate for many years without replacement.
– What are your objectives at Mir Stekla? Who would you like to see at your stand?
– Of course, the main objectives are to increase sales in Russia and the CIS, to search for new suppliers to expand the range, to get to know our customers, to identify their technical needs, and to draw up the terms of reference for ordering equipment. In addition, the show is an excellent opportunity to get acquainted with the current market environment and demands.
Our target audience includes representatives of Russian and CIS glass companies that need equipment for production, decoration and quality control of glass containers. We look forward to seeing all professionals at our stand!
Join us at Mir Stekla!
---