Promotion opportunities for the MIR STEKLA exhibition participants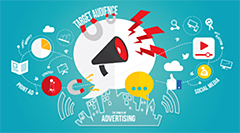 Dear participants, thank you for your participation in «MIR STEKLA» exhibition!
Take into account these practical pieces of advice to generate new contacts before, on time and after the exhibition!
I. Service included into the participation cost:
1. Products and novelty items
Seize the placement opportunity on a grant basis of 3 products/company services. Allocate innovations. Send an application >>
Example: Novelties 2017
2. News
Please, send us news about your company, products and innovations. It will provide additional interest of the target audience to your production prior to the MIR STEKLA exhibition. Accompany the description with bright HQ photos- and you will not remain unnoticed for audience of our website!
Example of news on the exhibition website >>
News and photos send to GoncharovaME@expocentr.ru and tikhonova@expocentr.ru.
3. Invite clients to the stand
You can increase the number of visitors at the stand of your company and increase commercial efficiency of participation by using advertising tools:
3.1. Invitation in the e-mail signature
Place the invitation link to the stand of your company / news on the exhibition website in the signature of e-mail.
Copy the image, put the reference and specify the stand of your company. Place in the e-mail signature. Download
3.2. E-Mailing of the invitation card and news to your partners
Send the invitation to your stand to the clients and partners, providing them with an opportunity of free visit of an exhibition.
3.3. Distribution of printing invitations
Distribute to the partners and clients, put in outgoing correspondence- increase awareness on an exhibition and on your participation in it!
3.4. Service of electronic invitations E-invite
Service provides the opportunity to send invitation cards to your partners and clients. Receiving such invitation, they can use it as the ticket of admission for an exhibition. Use service
4. Advertising banners of participants
Download and use special banners of participants "Mir Stekla" on your website and in e-mail signature– allow your partners and clients to learn about your participation in an exhibition!
Banner 150x150 >>
Banner (with a slide "Invitation to our company's booth") 200x200 >>
Banner 234х60 >>
Banner 468х60 >>
Banner (with a slide "Invitation to our company's booth") 468х120 >>
Exhibition Logo >>
5. Presentation at an exhibition business program
5.1. Stand presentations
Send information about product presentation at your booth, and you will be posted on the website in the schedule of the presentations section. Targeted visitors will plan to visit your stand in advance!
5.2. The presentation within the business actions
If you would like to make the report within the section "Technical Seminars and Master Classes" within the program of business events, please, report a subject and approve time of your performance.
6. Press Center Service
Hold a press conference, an interview with media within the press center of "Expocentre" AO.
7. «Efficient Participation in Exhibitions» Seminar (for Russian representatives of foreign companies)
How «to reimburse» the cost of participation in an exhibition? What actions should be undertaken for the efficient participation? How to catch the client?
Participate in a practical seminar.
II. Paid Service
Sponsor's and Advertizing Opportunities
Here you will find all available paid options for promotion of the company - choose the most suitable your strategy!
Have a perfect participation in an exhibition!